Sobre nosotros
Pizzerica te ofrece la más exquisita variedad de Italiana que puedes encontrar en Barcelona. Ven a visitarnos o haz tu pedido online. Verás como te sorprenderemos con nuestras especialidades.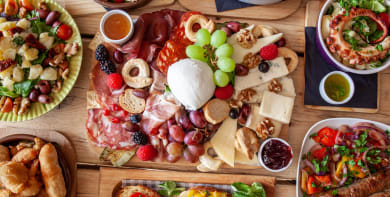 Opiniones
152 comentarios
Christian
"Very tasty Pizza. I am Italian, this is the best pizza in the neighborhood."
27/06/2020
Carlos
"Muy buena calidad y todo buenisimo ."
20/06/2020
Jorge
"Buen servicio y buenas pizzas"
29/05/2020
Jose
"Todo bien. Como siempre."
22/05/2020
Menú
Double Cheeseburger - Single
£4.50
Double Cheeseburger - Meal
£5.50
Double Chicken Burger - Single
£4.50
Double Chicken Burger - Meal
£5.50
Chilli Cheeseburger - Single
£3.50
Chilli Cheeseburger - Meal
£4.50
Double Beef Burger - Single
£4.50
Double Beef Burger - Meal
£5.50
Chicken Donner Burger - Single
£3.50
Chicken Donner Burger - Meal
£4.50
Italian Meat with Garlic Base Butter 08" Regular
Mozzarella cheese, ham (turkey ham), pepperoni, chicken & beef
£5.99
Italian Meat with Garlic Base Butter 10" Medium
Mozzarella cheese, ham (turkey ham), pepperoni, chicken & beef
£6.99
Italian Meat with Garlic Base Butter 12" Large
Mozzarella cheese, ham (turkey ham), pepperoni, chicken & beef
£10.99
Italian Meat with Garlic Base Butter 16" Family
Mozzarella cheese, ham (turkey ham), pepperoni, chicken & beef
£13.49
Italian Vegetable with Garlic Base Butter 08" Regular
Mozzarella cheese, onions, green peppers, mushrooms & sweetcorn
£5.99
Italian Vegetable with Garlic Base Butter 10" Medium
Mozzarella cheese, onions, green peppers, mushrooms & sweetcorn
£6.99
Italian Vegetable with Garlic Base Butter 12" Large
Mozzarella cheese, onions, green peppers, mushrooms & sweetcorn
£10.99
Italian Vegetable with Garlic Base Butter 16" Family
Mozzarella cheese, onions, green peppers, mushrooms & sweetcorn
£13.49
Half & Half Pizza 08" Regular
Choose any 2 of your favourite & we make it half & half
£6.99
Half & Half Pizza 10" Medium
Choose any 2 of your favourite & we make it half & half
£7.49
Half & Half Pizza 12" Large
Choose any 2 of your favourite & we make it half & half
£11.49
Half & Half Pizza 16" Family
Choose any 2 of your favourite & we make it half & half
£13.99
Margherita 08" Regular
Mozzarella cheese & Italian pizza sauce
£3.99
Margherita 10" Medium
Mozzarella cheese & Italian pizza sauce
£4.99
Margherita 12" Large
Mozzarella cheese & Italian pizza sauce
£8.49
Margherita 16" Family
Mozzarella cheese & Italian pizza sauce
£10.99
Garlic Bread 08" Regular
Mozzarella cheese & fresh garlic
£3.99
Garlic Bread 10" Medium
Mozzarella cheese & fresh garlic
£4.99
Garlic Bread 12" Large
Mozzarella cheese & fresh garlic
£8.49
Garlic Bread 16" Family
Mozzarella cheese & fresh garlic
£10.99
Hawaiian 08" Regular
Mozzarella cheese, Italian pizza sauce, ham & pineapple
£4.99
Hawaiian 10" Medium
Mozzarella cheese, Italian pizza sauce, ham & pineapple
£5.99
Hawaiian 12" Large
Mozzarella cheese, Italian pizza sauce, ham & pineapple
£9.49
Hawaiian 16" Family
Mozzarella cheese, Italian pizza sauce, ham & pineapple
£11.49
Farmhouse 08" Regular
Mozzarella cheese, Italian pizza sauce, ham & mushrooms
£4.99
Farmhouse 10" Medium
Mozzarella cheese, Italian pizza sauce, ham & mushrooms
£5.99
Farmhouse 12" Large
Mozzarella cheese, Italian pizza sauce, ham & mushrooms
£9.49
Farmhouse 16" Family
Mozzarella cheese, Italian pizza sauce, ham & mushrooms
£11.49
Pollo Funghi 08" Regular
Mozzarella cheese, Italian pizza sauce, chicken & mushrooms
£4.99
Pollo Funghi 10" Medium
Mozzarella cheese, Italian pizza sauce, chicken & mushrooms
£5.99
Pollo Funghi 12" Large
Mozzarella cheese, Italian pizza sauce, chicken & mushrooms
£9.49
Pollo Funghi 16" Family
Mozzarella cheese, Italian pizza sauce, chicken & mushrooms
£11.49
Pepperoni 08" Regular
Mozzarella cheese, Italian pizza sauce & double pepperoni
£4.99
Pepperoni 10" Medium
Mozzarella cheese, Italian pizza sauce & double pepperoni
£5.99
Pepperoni 12" Large
Mozzarella cheese, Italian pizza sauce & double pepperoni
£9.49
Pepperoni 16" Family
Mozzarella cheese, Italian pizza sauce & double pepperoni
£11.49
Salami 08" Regular
Mozzarella cheese, Italian pizza sauce & salami
£4.99
Salami 10" Medium
Mozzarella cheese, Italian pizza sauce & salami
£5.99
Salami 12" Large
Mozzarella cheese, Italian pizza sauce & salami
£9.49
Salami 16" Family
Mozzarella cheese, Italian pizza sauce & salami
£11.49
Classic 08" Regular
Mozzarella cheese, Italian pizza sauce, ham, pineapple & mushrooms
£5.49
Classic 10" Medium
Mozzarella cheese, Italian pizza sauce, ham, pineapple & mushrooms
£6.49
Classic 12" Large
Mozzarella cheese, Italian pizza sauce, ham, pineapple & mushrooms
£9.99
Classic 16" Family
Mozzarella cheese, Italian pizza sauce, ham, pineapple & mushrooms
£12.49
Tropicana 08" Regular
Mozzarella cheese, Italian pizza sauce, ham, pineapple & bacon
£5.49
Tropicana 10" Medium
Mozzarella cheese, Italian pizza sauce, ham, pineapple & bacon
£6.49
Tropicana 12" Large
Mozzarella cheese, Italian pizza sauce, ham, pineapple & bacon
£9.99
Tropicana 16" Family
Mozzarella cheese, Italian pizza sauce, ham, pineapple & bacon
£12.49
Tuscano 08" Regular
Mozzarella cheese, Italian pizza sauce, salami, pepperoni & mushrooms
£5.49
Tuscano 10" Medium
Mozzarella cheese, Italian pizza sauce, salami, pepperoni & mushrooms
£6.49
Tuscano 12" Large
Mozzarella cheese, Italian pizza sauce, salami, pepperoni & mushrooms
£9.99
Tuscano 16" Family
Mozzarella cheese, Italian pizza sauce, salami, pepperoni & mushrooms
£12.49
Oriental 08" Regular
Mozzarella cheese, Italian pizza sauce, chicken, mushrooms & sweetcorn
£5.49
Oriental 10" Medium
Mozzarella cheese, Italian pizza sauce, chicken, mushrooms & sweetcorn
£6.49
Oriental 12" Large
Mozzarella cheese, Italian pizza sauce, chicken, mushrooms & sweetcorn
£9.99
Oriental 16" Family
Mozzarella cheese, Italian pizza sauce, chicken, mushrooms & sweetcorn
£12.49
El Paso 08" Regular
Mozzarella cheese, Italian pizza sauce, onions, green peppers, sweetcorn, chilli & olives
£5.49
El Paso 10" Medium
Mozzarella cheese, Italian pizza sauce, onions, green peppers, sweetcorn, chilli & olives
£6.49
El Paso 12" Large
Mozzarella cheese, Italian pizza sauce, onions, green peppers, sweetcorn, chilli & olives
£9.99
El Paso 16" Family
Mozzarella cheese, Italian pizza sauce, onions, green peppers, sweetcorn, chilli & olives
£12.49
Chinese Special 08" Regular
Mozzarella cheese, Italian pizza sauce, tandoori chicken, jalapenos, sweetcorn, Chinese chicken & green peppers
£5.99
Chinese Special 10" Medium
Mozzarella cheese, Italian pizza sauce, tandoori chicken, jalapenos, sweetcorn, Chinese chicken & green peppers
£6.99
Chinese Special 12" Large
Mozzarella cheese, Italian pizza sauce, tandoori chicken, jalapenos, sweetcorn, Chinese chicken & green peppers
£10.99
Chinese Special 16" Family
Mozzarella cheese, Italian pizza sauce, tandoori chicken, jalapenos, sweetcorn, Chinese chicken & green peppers
£13.49
Caribbean 08" Regular
Mozzarella cheese, Italian pizza sauce, beef, pepperoni, chicken & garlic
£5.99
Caribbean 10" Medium
Mozzarella cheese, Italian pizza sauce, beef, pepperoni, chicken & garlic
£6.99
Caribbean 12" Large
Mozzarella cheese, Italian pizza sauce, beef, pepperoni, chicken & garlic
£10.99
Caribbean 16" Family
Mozzarella cheese, Italian pizza sauce, beef, pepperoni, chicken & garlic
£13.49
Chinese 08" Regular
Mozzarella cheese, Italian pizza sauce, Chinese chicken, mushrooms, sweetcorn & green peppers
£5.99
Chinese 10" Medium
Mozzarella cheese, Italian pizza sauce, Chinese chicken, mushrooms, sweetcorn & green peppers
£6.99
Chinese 12" Large
Mozzarella cheese, Italian pizza sauce, Chinese chicken, mushrooms, sweetcorn & green peppers
£10.99
Chinese 16" Family
Mozzarella cheese, Italian pizza sauce, Chinese chicken, mushrooms, sweetcorn & green peppers
£13.49
American 08" Regular
Mozzarella cheese, Italian pizza sauce, onions, green peppers, pepperoni & green chilli
£5.99
American 10" Medium
Mozzarella cheese, Italian pizza sauce, onions, green peppers, pepperoni & green chilli
£6.99
American 12" Large
Mozzarella cheese, Italian pizza sauce, onions, green peppers, pepperoni & green chilli
£10.99
American 16" Family
Mozzarella cheese, Italian pizza sauce, onions, green peppers, pepperoni & green chilli
£13.49
Mexican 08" Regular
Mozzarella cheese, Italian pizza sauce, beef, onions, green peppers, chilli, jalapenos & tandoori chicken
£5.99
Mexican 10" Medium
Mozzarella cheese, Italian pizza sauce, beef, onions, green peppers, chilli, jalapenos & tandoori chicken
£6.99
Mexican 12" Large
Mozzarella cheese, Italian pizza sauce, beef, onions, green peppers, chilli, jalapenos & tandoori chicken
£10.99
Mexican 16" Family
Mozzarella cheese, Italian pizza sauce, beef, onions, green peppers, chilli, jalapenos & tandoori chicken
£13.49
Vegetarian 08" Regular
Mozzarella cheese, Italian pizza sauce, onions, green peppers, mushrooms, sweetcorn & pineapple
£5.99
Vegetarian 10" Medium
Mozzarella cheese, Italian pizza sauce, onions, green peppers, mushrooms, sweetcorn & pineapple
£6.99
Vegetarian 12" Large
Mozzarella cheese, Italian pizza sauce, onions, green peppers, mushrooms, sweetcorn & pineapple
£10.99
Vegetarian 16" Family
Mozzarella cheese, Italian pizza sauce, onions, green peppers, mushrooms, sweetcorn & pineapple
£13.49
Milano 08" Regular
Mozzarella cheese, garlic base, onions, mushrooms, sweetcorn & pineapple
£5.99
Milano 10" Medium
Mozzarella cheese, garlic base, onions, mushrooms, sweetcorn & pineapple
£6.99
Milano 12" Large
Mozzarella cheese, garlic base, onions, mushrooms, sweetcorn & pineapple
£10.99
Milano 16" Family
Mozzarella cheese, garlic base, onions, mushrooms, sweetcorn & pineapple
£13.49
Meat Feast 08" Regular
Mozzarella cheese, Italian pizza sauce, beef, ham, tandoori chicken & pepperoni
£5.99
Meat Feast 10" Medium
Mozzarella cheese, Italian pizza sauce, beef, ham, tandoori chicken & pepperoni
£6.99
Meat Feast 12" Large
Mozzarella cheese, Italian pizza sauce, beef, ham, tandoori chicken & pepperoni
£10.99
Meat Feast 16" Family
Mozzarella cheese, Italian pizza sauce, beef, ham, tandoori chicken & pepperoni
£13.49
Seafood 08" Regular
Mozzarella cheese, Italian pizza sauce, onions, tuna, prawns, anchovies & black olives
£5.99
Seafood 10" Medium
Mozzarella cheese, Italian pizza sauce, onions, tuna, prawns, anchovies & black olives
£6.99
Seafood 12" Large
Mozzarella cheese, Italian pizza sauce, onions, tuna, prawns, anchovies & black olives
£10.99
Seafood 16" Family
Mozzarella cheese, Italian pizza sauce, onions, tuna, prawns, anchovies & black olives
£13.49
Supreme 08" Regular
Mozzarella cheese, Italian pizza sauce, chicken, beef, onions, green peppers, sweetcorn & pepperoni
£5.99
Supreme 10" Medium
Mozzarella cheese, Italian pizza sauce, chicken, beef, onions, green peppers, sweetcorn & pepperoni
£6.99
Supreme 12" Large
Mozzarella cheese, Italian pizza sauce, chicken, beef, onions, green peppers, sweetcorn & pepperoni
£10.99
Supreme 16" Family
Mozzarella cheese, Italian pizza sauce, chicken, beef, onions, green peppers, sweetcorn & pepperoni
£13.49
Big BBQ 08" Regular
Mozzarella cheese, BBQ sauce, chicken, pepperoni, green peppers & onions
£5.99
Big BBQ 10" Medium
Mozzarella cheese, BBQ sauce, chicken, pepperoni, green peppers & onions
£6.99
Big BBQ 12" Large
Mozzarella cheese, BBQ sauce, chicken, pepperoni, green peppers & onions
£10.99
Big BBQ 16" Family
Mozzarella cheese, BBQ sauce, chicken, pepperoni, green peppers & onions
£13.49
Special Pizza 08" Regular
Mozzarella cheese, Italian pizza sauce, mushrooms, sweetcorn, onions, green peppers, pineapple, beef, chicken, ham & pepperoni
£6.99
Special Pizza 10" Medium
Mozzarella cheese, Italian pizza sauce, mushrooms, sweetcorn, onions, green peppers, pineapple, beef, chicken, ham & pepperoni
£7.49
Special Pizza 12" Large
Mozzarella cheese, Italian pizza sauce, mushrooms, sweetcorn, onions, green peppers, pineapple, beef, chicken, ham & pepperoni
£11.49
Special Pizza 16" Family
Mozzarella cheese, Italian pizza sauce, mushrooms, sweetcorn, onions, green peppers, pineapple, beef, chicken, ham & pepperoni
£13.99
Full Peri Peri Chicken & Chips
£11.00
Half Peri Peri Chicken & Chips
£6.00
Quarter Peri Peri Chicken & Chips
£4.00
Donner Kebab (Chips) Medium
£3.50
Donner Kebab (Chips) Large
£4.50
Donner Kebab (Pitta) Medium
£3.00
Donner Kebab (Pitta) Large
£4.00
Chicken Kebab (Chips) Medium
£4.50
Chicken Kebab (Chips) Large
£5.50
Chicken Kebab (Pitta) Medium
£4.00
Chicken Kebab (Pitta) Large
£5.00
Mixed Donner Kebab (Chips) Medium
£4.99
Mixed Donner Kebab (Chips) Large
£5.99
Mixed Donner Kebab (Pitta) Medium
£4.50
Mixed Donner Kebab (Pitta) Large
£5.50
Garlic Chicken Kebab Pitta
£5.50
Garlic Chicken Kebab Chips
£5.50
Special Mixed Kebab Pitta
£6.00
Special Mixed Kebab Chips
£6.00
1st Half Pizza Margherita
1st Half Pizza Garlic Bread
1st Half Pizza Pollo Funghi
1st Half Pizza Chinese Special
1st Half Pizza Vegetarian
1st Half Pizza Meat Feast
1st Half Pizza Italian Meat with Garlic Base Butter
1st Half Pizza Italian Vegetable with Garlic Base Butter
1st Half Pizza Special Pizza
2nd Half Pizza Margherita
2nd Half Pizza Garlic Bread
2nd Half Pizza Pollo Funghi
2nd Half Pizza Chinese Special
2nd Half Pizza Vegetarian
2nd Half Pizza Meat Feast
2nd Half Pizza Italian Meat with Garlic Base Butter
2nd Half Pizza Italian Vegetable with Garlic Base Butter
2nd Half Pizza Special Pizza
Bag of Haribo Sweets (Halal)
£1.00
Chicken Nuggets with Chips 04 Pieces
£2.00
Chicken Nuggets with Chips 08 Pieces
£4.00
Garlic Mushrooms with Cheese
£3.50
Chicken Strippers
8 Pieces
£3.50
Potato Skins with Cheese
5 Pieces
£3.50
BBQ Chicken Wings
8 Pieces
£2.50
Häagen Dazs Ice Cream 500ml Belgian Chocolate
£4.99
Häagen Dazs Ice Cream 500ml Vanilla
£4.99
Häagen Dazs Ice Cream 500ml Strawberry
£4.99
Häagen Dazs Ice Cream 500ml Cookies & Cream
£4.99
Häagen Dazs Ice Cream 500ml Strawberry Cheesecake
£4.99
Chicken & Chips 02 Pieces
£3.50
Chicken & Chips 03 Pieces
£4.50
Home Alone Deal 1
Any 3 single burgers
3 Regular fries
3 Cans of drink
£12.99
Home Alone Deal 2
Any regular pizza
Regular fries
4 Pieces garlic bread
A can of drink
£7.99
Family Meal
Any 2 x 16" pizza
4 Pieces garlic bread
Large fries
Coleslaw
Cheesecake
Bottle of Coca-Cola
£25.99
Offer 1
Any 8" pizza, fries & a can of soft drink
£6.49
Offer 2
Any 10" pizza, 4 pieces garlic bread, fries, coleslaw & 2 x cans of soft drink
£12.49
Offer 3
Any 12" pizza, 4 pieces garlic bread, fries, coleslaw & a 1.5L bottle of Coca-Cola
£13.99
Offer 4
Any 16" pizza, chicken wings, 4 pieces garlic bread, fries, coleslaw, cheesecake & a 1.5L bottle of Coca-Cola
£18.99
Mega Deal
Any 2 x 12" pizzas, 8 pieces chicken wings, small fries, 4 pieces garlic bread, tub of coleslaw & a bottle of soft drink
£19.99
Any 2 x 8" Regular Pizzas
£9.49
Any 2 x 16" Family Pizzas
£21.99
Special Offer 1
Any 2 x 10" medium pizzas
£12.49
Special Offer 2
Any 3 x 10" medium pizzas
£15.99
Special Offer 3
Any 4 x 10" medium pizzas
£18.99
Contacta con nosotros
Encuéntranos
Calle Llopis 8, Barcelona, 08042
Horario de apertura
Por favor, ten en cuenta que el tiempo de entrega puede variar
Realizamos entregas en
08016, 08030, 08031, 08042